Moldings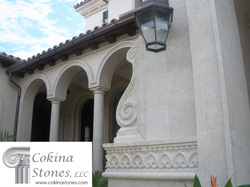 We carve moldings to your specifications. There are a variety of common moldings:
Baseboard, "base molding" or "skirting board" — used to conceal the junction of an interior wall and floor
Apron, raised panel below a window or wall monument or tablet.
Architrave-formalized lintel, the lowest member of the classical entablature.
Cornice-Upper section of an entablature, a projecting shelf along the top of a wall often supported by brackets corbels.
Bed molding — a narrow molding used at the junction of a wall and ceiling. Bed moldings can be either sprung or plain.
Cable molding or ropework — Convex molding carved in imitation of a twisted rope or cord, and used for decorative moldings of the Romanesque style in England, France and Spain and adapted for 18th century silver and furniture design

Cabled fluting or cable — Convex circular molding sunk in the concave fluting of a classic column, and rising about one-third of the height of the shaft
Casing — Final trim or finished frame around the top, and both sides of a door or window opening
Cartouche (French) escutcheon) — framed panel in the form of a scroll with an inscribed center, or surrounded by compound moldings decorated with floral motifs
Chair rail — horizontal molding placed part way up a wall to protect the surface from chair-backs, and used simply as decoration
Chamfer — beveled edge connecting two adjacent surfaces
Corner guard — Used to protect the edge of the wall at an outside corner, or to cover a joint on an inside corner.
Cove molding or Coving — a concave-profile molding that is used at the junction of an interior wall and ceiling
Crown molding — a wide, sprung molding that is used at the junction of an interior wall and ceiling. General term for any molding at the top or "crowning" an architectural element.
Rosette — Circular, floral decorative element found in Mesopotamian design and early Greek stele. Part of revival styles in architecture since the Renaissance.
Trim Molding — So a general term used for moldings that are used to create added detail or cover up gaps. They can include corner moldings, cove moldings, rope moldings, quarter rounds, and accent moldings.
---